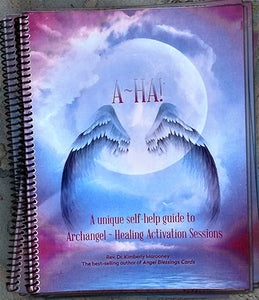 Silver Award Winner for Iconic Product
2022 Coalition of Visionary Resources Award

The Complete Archangel Healing Activations (A~HA) Workbook includes over 120 detailed pages guiding you to connect and heal with the Archangels.
This workbook accompanies ANY of the Archangel Blessings Sprays. Archangel ~ Healing Activation Protocol is for you! You've come to the right place. From these pages, you'll learn how to call forth the Archangel Healing experience that your heart and soul have been searching for.
Welcome. I'm Rev. Dr. Kimberly Marooney and I am delighted to guide you into deeper experiences with your angels. You will learn how to approach any problem or question with the full support of the heavens by doing an Archangel ~ Healing Activation Session that combines angel readings, Sound Essence Archangel Blessings Sprays, Archangel Activations and Archangel Resonance Infusions in one potent healing experience. I have helped hundreds of thousands of people worldwide to experience direct contact with angels and I can help you, too.
You will learn to:
- Bring healing to body, mind, soul and relationships
- Receive the guidance you need for life
- Activate your Soul Calling
- Explore your inner senses or the 4 C's of Clairvoyance, Clairaudience, Clairsentience, and Claircognizance
Open your heart to experience pure Divine Love that changes EVERYTHING! You have a team of angels who are with you always.
You'll discover:
- Who is on your team
- How they help you in life
- How to work with them to access their energy, guidance and resources
Table of Contents
1. Angel Power 5 Archangel Michael Manifests the Activations 6 Archangel Resonance Infusions 7
2. Seven Steps to Brilliant Angel Readings 11 The Seven Steps 12 Unwinding meditation 13 Daily Angel Communion 18 Daily Angel Journal 18
3. Asking Powerful Questions 33 Million Dollar Questions 34
4. Your Soul Calling 37 Your Soul and Your Guardian Angel 38 Your Soul's Purpose 38 Your Soul Calling Meditation 39
5. Your Angel Team 43 Angel Message 43 Meet Your Angels 44
6. The Seven Archangels 49 Divine Intermediaries 49 Archangel Michael's Divine Heritage, Safety and Trust Activation 51 Archangel Metatron's Ascension Charka Activation 54 Archangel Jophiel's "The Quickening" Activation 57 Archangel Gabriel's Soul Star Activation 60 Archangel Raphael's Healers Heart and Hands Activation 63 Archangel Uriel's Benediction Activation 66 Archangel Chamuel's Worthiness and Adoration Activation 69 Favorite Music 74
7. How to do Archangel ~ Healing Activations 75 Co-create the Connection 75 Join our Grow with Grace Facebook Group! 78 Put it all together in a Full Session 79 3-Minute Archangel Boost 82
8. A~HA! Session Charts 85 About the Kimberly Marooney 96 How to Order Supplies 96 Advanced Study 97