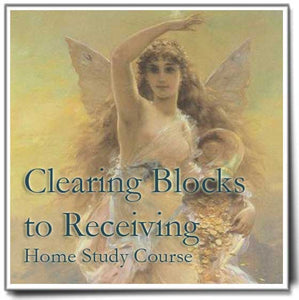 Receiving is the key to everything.
Get immediate access to this downloadable home study course with Rev. Kimberly Marooney
 
When you are open and receptive, you are in the flow of creativity, love, and joy. In the embrace of divine love, it's easy to let go of old pain and outdated beliefs, clearing blocks to receiving.
 
Are you experiencing financial hardship? Are you blocked from manifesting the calling of your soul? What are you longing for? Join us to recognize what might be blocking you from receiving the love, satisfaction, and abundance you desire.
 
During the Clearing Blocks to Receiving Home Study Course, you will:
Learn the Two Keys to Receiving
Gain clarity on what is blocking you
Clear your blocks
Open to receive the gifts of spirit and abundance that are trying to flow to you
Experience the energy and presence of the angels and spirit during the class and meditation
Recognize answers to your prayer
Learn to use the Four Steps to gain awareness, cherish change, be receptive and take action

Upon Checkout you'll receive a link to download all PDFs and Audios which include the following: 1 – Clearing Blocks to Receiving Lecture mp3 2 – Workbook pdf 3 – Meditation mp3 4 – Closing mp3 
Listen to a Sample by clicking below:
If you cannot hear the sound, your computer or browser doesn't support the sound format.
Or, you have your speakers turned off :)